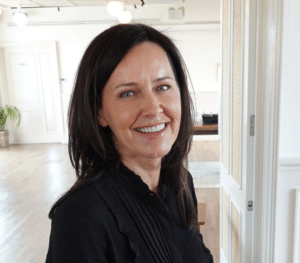 "Toronto has the highest volume of top-quality SMEs in Canada. From here, we can get to know the market and the nuances of the SME community not just in the city but elsewhere in Canada and the U.S."
Andrea Reynolds, Founder and CEO at Swoop Funding

Three years after launching a digital platform in the UK that has enabled thousands of small and mid-sized enterprises (SMEs) to acquire millions of pounds of financing, Swoop Finance expanded into North America.
As its point of entry to the market, the company selected Toronto, the second-largest financial centre in North America, and Ontario, the second largest tech cluster in North America.
"We go where the customers are,"
says Andrea Reynolds, Swoop's founder and CEO. "Toronto has the highest volume of top-quality SMEs in Canada. From here, we can get to know the market and the nuances of the SME community not just in the city but elsewhere in Canada and the U.S."
Working directly with SMEs, in partnership with banks, non-bank lenders, advisors, chambers of commerce and other participants in the financial sector, Swoop provides a digital platform where customers can compare thousands of financial products and services, from loans, cash advances and credit facilities to equity, mortgages, grants and tax credits.
Using Swoop's platform, they can assess their financial requirements and then gain access to appropriate financing "in one fell swoop," says Reynolds.
The company's technology benefits SMEs and their advisors alike.
"Smaller businesses are hard to serve if they require human intervention,"
Reynolds continues. "Serving them digitally, we can provide better service while helping them to operate more efficiently."
In Canada, Swoop's research has determined that 350,000 SMEs already use digital services. With open banking on the horizon, that number will increase, presenting new opportunities for Swoop, says Reynolds.
Swoop also sees opportunities in introducing Canadian SMEs to non-bank lenders. In the UK, Swoop provides white-label solutions to banks and other financial institutions, enabling them to offer a wider range of online funding products and services such as grants, equity and alternative debt. NatWest, for example, used a white-label solution from Swoop to give SME customers access not only to NatWest Loans but also to grants tailored to their business needs. Within the first week, more than 2,000 SMEs engaged with the tool.
Swoop's expansion into North America follows a similar foray in 2020 into Australia and gives the company a similar opportunity to provide SMEs with digital financial services.
With support from organizations in England and Canada, the company identified strategic partners within Toronto's financial services community.
"Toronto Global gave us great insights into the market,"
Reynolds says. "We also received a lot of help from London & Partners in the UK."
Before opening a Toronto office, Reynolds and her team had already established partnerships with more than 30 lenders in Canada. As a member of the Mayor of London's International Business Programme, she then met in person with more potential partners in the city during a North American Trade Mission in the Fall of 2021.
With a Canadian location, two Swoop employees had no trouble emigrating from the UK while still giving them access to U.S. markets. Swoop then added three employees, hired locally, to join the team.
"The government has created an operating environment to encourage tech companies to invest, so Ontario's R&D tax environment is now regarded as the best in the world," says Reynolds, who learned first-hand about the financial needs of spin-off companies as a consultant to McLaren F1 Applied Technologies. "As a result, the province's tech talent pool is phenomenal."
As an integrated hub for financial management and planning, Swoop not only helps SMEs locate appropriate financing, it also identifies ways to save money, helping them to achieve better financial health.
For example:
Swoop helped a young tech startup save C$10,000 on annual international payments. That saving meant the startup could now afford the yearly repayments on an unsecured loan, which Swoop also landed for them. Fast forward 12 months, and Swoop helped the company reclaim its R&D tax credits, providing the cash for further development. Swoop also helped the business to land its first investment.
For a late-stage manufacturer, Swoop helped to raise asset financing of C$1m to expand production while also assisting in obtaining an innovation grant of C$300,000 for an R&D project.
In Australia, Swoop worked with a cloud-based global investment platform to prepare its pitch to investors, helping the company to raise C$3 million in capital.
When a retailer of organic and health teas needed an immediate line of credit to take advantage of an opportunity, Swoop helped in identifying a funder and preparing the application to secure funding within 24 hours.
"Putting the right money at the right time into the hands of business owners as they go through each stage, whether it be growth or cash crunch, is our mission," says Reynolds, "and nothing gives me more pleasure than to see our customers flourish as a result."
"We're looking forward to helping Toronto's strong SME community with future growth,"
she continues. "An important factor to growth for SMEs is access to financing, and that's the opportunity that we're here for."

Operates in UK, Ireland, Australia & Canada
Grown to user base of 60k SMEs
Assisted SMEs in obtaining more than C$100m in funding over the past year
Partnered with providers of more than 1,000 debt, equity, grant & savings products