Local support is something a large number of businesses can benefit from and therefore, it is important to be aware of how you can benefit from it. This kind of support is often allocated to businesses via Local Enterprise Partnerships, which are set up by the government to target growth barriers in different areas across England. One benefit some businesses can access via their local LEP is grant funding. Each LEP gets a pool of funds each year, that they can 'grant' to businesses working towards a specific growth target in their region – yet 70% of businesses have NEVER applied for a grant – if you are part of this 70%, you can read more about how you might be able to access more funding below.
What is a Local Enterprise Partnership (LEP)?
England is divided into local authorities called Local Enterprise Partnerships, better known as LEPs. The LEPs are voluntary partnerships between local authorities and businesses. 
LEPs are good to be aware of if you are searching for grants as these partnerships have their own pool of grants, other funding and training opportunities which must be allocated to businesses in the given area. Therefore, it's safe to say that they play a vital role in supporting businesses and innovation across England, developing skills, delivering infrastructure, and securing investment.
For your business, this means that the competition can be smaller compared to the large, national grants, all businesses throughout the UK can apply for.
So what exactly does an LEP do?
An LEP is a business-led partnership between local authorities and local private-sector businesses. They play a central role in the local economy and the support offered to the citizens in this area, in particular with regard to the prioritisation of decisions that impact economic development.
Some of their responsibilities involve "determining local economic priorities and undertaking activities to drive economic growth and job creation, improve infrastructure and raise workforce skills within the local area."
When were the LEPs created?
The LEPs were set up by the government to address the obstacles to the growth experienced across the country's regions. The partnerships were originally set up in 2011 by the Department for Business, Innovation and Skills. Initially, they helped carry out some of the functions previously carried out by the regional development agencies which were stopped in March 2012 and now the LEPs help local areas grow, as mentioned above.
How many LEPs are there in the UK?
LEPs are only in England, which is split into 38 LEPs – previously this number was 39, but in March 2017 the Northamptonshire LEP was merged with South East Midlands LEP. The list of names for each of the LEPs are listed below:
LEP map
If you are unsure about which LEP you are based in, and therefore who from your perspective would be good to be in contact with, then you can see the location map created by The LEP Network below.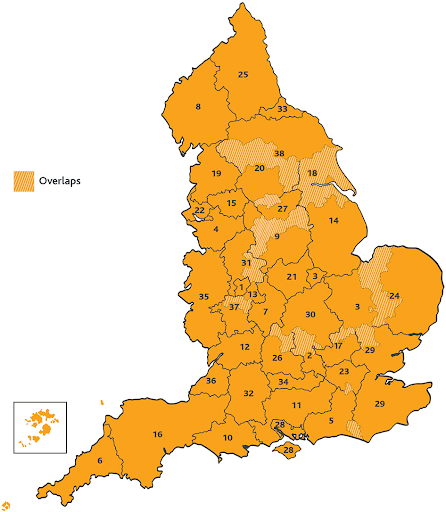 It is worth noting that, some of the areas are overlapping, and therefore you may be eligible for support in both partnerships if you have the relevant activity within this.
What are the advantages and disadvantages of LEPs?
Over the past 10 years that LEPs have been in the UK a lot of prominent British leaders have expressed their positive views on LEPs.
One major advantage of the LEPs is that they bring the government and businesses closer together. CBI President, Paul Drechsler, highlights how LEPs provide the opportunity for the community to influence their local area and economy. 
LEPs can help provide local growth across England, as they each have their own focus, are in tune with their particular area and have a better understanding of what business areas are lacking funding more than others.
Former Prime Minister, David Cameron, praised LEPs saying: "Together you have invested over £15 billion in projects and programmes – boosting local economies and creating quality job opportunities that are improving people's lives and their communities. "
The disadvantages are harder to identify as there are no direct disadvantages. The way funds are dispersed across different LEPs can vary. So depending on where you are located, you may be at a disadvantage if you are not operating in a particular sector that your LEP is channelling a large portion of funding towards. Each LEP has its individual funds, training and support, and this is allocated to them from the government. Hence rural areas or areas that are seen to be needing further economic support whether that will be from a social, geographical or economic perspective are often allocated more funding.
What is a growth hub and what relevance does it have to the LEPs?
An LEP focuses on all the aspects of a certain area and how it can benefit from government support, whether that will be a new road, unemployment or community events. Each LEP, therefore, has a side of the partnership that focuses on businesses, this is called a growth hub. This means that, if you are looking to benefit from the business support available for startups to established businesses, then the Growth Hub will often be your first step on this journey.
Growth Hubs were set up in 2014, as each of the local areas in England experienced different barriers to growth, therefore, they needed different approaches.
How many growth hubs are in the UK?
Each growth hub sits within a local enterprise partnership, and therefore there are 38.
Does Wales have Local Enterprise Partnerships?
Local Enterprise Partnerships are specific to England. The other countries within the United Kingdom have similar support services, but they are delivered in different ways. In Wales "Business Wales" is the local support system. The support is similar to the growth hubs as they can help businesses at a variety of stages across startups, scale ups and established businesses. The support is free-of-charge and ranges from advisory services to a finance locator.
Are there LEPs in Scotland and Northern Ireland?
Scotland and Northern Ireland are similar to Wales in the way that they provide support. Support to Scottish businesses is delivered through Business Gateway which offers similar services as Business Wales. The support for businesses located in Northern Ireland is mainly delivered through Invest NI.
What does D2N2 stand for?
D2N2 is one of the Growth Hubs in England and is located within the Midlands. It supports businesses registered or trading in Derby, Derbyshire, Nottingham and Nottinghamshire. Local businesses will be able to access business support and any available grants through this growth hub.
How can I find out more about grant funding?
If you are currently looking for grants to support your business, then you can sign up to Swoop and use our Grant Finder tool to see all your relevant matches. This tool is updated on a daily basis with any active grants, and by providing some basic company information in your Swoop account, you'll be able to see all the grant funding matches for your business as well as the next steps to secure it. Register now.