Hello there, 
Fatigue following the close of the tax year has all but subsided and the new SEIS limits allowing founders to raise up to £250k under the scheme are now in play, which is encouraging for those in the early stages of their ventures.
Coupled with a positive UK economic outlook from Reuters, indicating resilience and even growth momentum in the economy which can provide a more favourable environment for exit activity, hopefully these are positive indicators for all founders and private investors.
However, the VC market has faced challenges in the first quarter. Later-stage companies have struggled due to a lack of funding and a sluggish exit market. Although, there are signs of stabilisation in deal-making declines, and seed valuations are on the rise. Additionally, the emergence of early-stage companies in the generative AI sector brings a sense of optimism.
These mixed trends in the VC market highlight both challenges and opportunities for founders and private investors.
Below we have summarised an updated economic outlook from Reuters, a VC market update from PitchBook, the impacts of Generative AI, what we're reading, events we are attending, and more. 
Enjoy!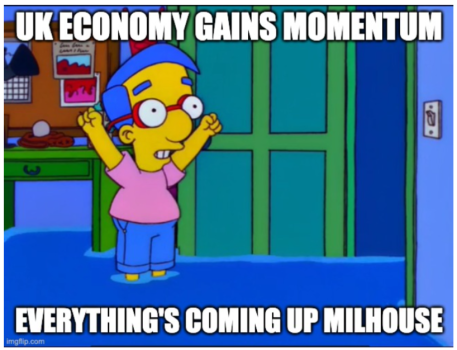 Looking on the bright side - economic outlook
Reuters: UK economic outlook
Last week we saw a further 0.25 percentage point rise of the UK Bank Rate, taking the figure to 4.5%
According to Reuters, British businesses reported March 2023 as their busiest month in the past year as consumer confidence increased.
The preliminary reading of the S&P Global/CIPS UK Composite Purchasing Managers' Index (PMI) also showed the slowest input cost inflation in over two years, but price pressures were strong enough for the Bank of England to raise rates again last month. 
Overall, the UK economy not only showed resilience but gained growth momentum as we headed into the second quarter – a positive sign for private investors and startups alike, as wider economic stability can provide a more favourable environment for exit activity.
Pitchbook's recent VC report showed:
​​Later-stage companies faced challenges in Q1 due to a shortage of VC capital and a sluggish exit market.
Deal-making decline is levelling off, and seed valuations are ticking up.
B2B tech startups face difficulties, as every contract is harder to earn, making revenue basis evaluations less compelling.
Growth-stage companies have been hit the hardest, with the number of late-stage VC deals over $50 million on track to be less than half of 2022's count.
Mega-deals were riding high through 2021 but started dropping off in mid-2022, and the capital demand to supply ratio for late-stage companies is at record heights.
Seed-stage funding didn't collapse in 2022, and microfunds are bolstering seed-stage activity, with median deal size and pre-valuation on the rise.
Investors are flocking to higher-quality companies, and the sudden emergence of early-stage companies in the generative AI space is giving investors reasons to be bullish.
Generative AI taking over the world?
As AI continues to make strides in technology and disrupting industries, leaders in the field are calling for increased regulation and restrictions. Recently, a group of key figures in the industry, including Elon Musk, Geoffrey Hinton, and Steve Wozniak, signed an open letter advocating for a temporary suspension of training for powerful AI systems. 
The letter, issued by the Future of Life Institute, cites concerns over the risks that future, more advanced systems may pose to society and humanity. This call for caution and regulation comes on the heels of OpenAI's release of GPT-4, the newest and public available version of OpenAI's AI, and the recent $300 million funding raise for OpenAI to further develop AI. As the AI industry continues to grow, it will be important to balance innovation with ethical considerations and accountability with a growing focus from leaders in the field on accountability and precautions.
Chicken & Egg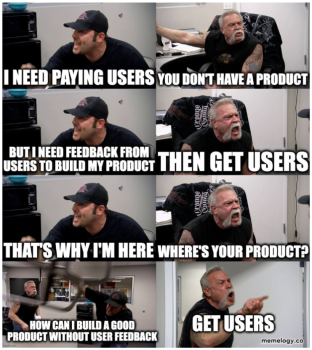 Digital Transformation EXPO Manchester - May 17th

Focal S23 Demo Day - May 18th

London Tech week - June 12-16th

Failure is only feedback with Mark Dowds – Founded and Grounded
Mark Dowds is a serial entrepreneur and investor, and his latest venture, Responsible, seeks to make the clothing industry more sustainable. Over the years, Mark has made good money, signed six-figure cheques as a super angel investor, and has lost it all – before starting over again.
In this episode, Mark discusses how to get over mistakes, how your money backstory can influence your attitude to risk and business, the value of stepping outside your comfort zone, how listening to your fears can help, and why you need to be clear about the problem your business is solving.