Whether this is your first franchise or your fiftieth, Swoop's finance experts will make your life easier.
BACKGROUND
You want to become part of a franchise because you want the security of a tried and tested business model, a recognisable brand and support in growing your own business.
To do this, you will need to run a business that has the resources needed to meet the brand standards of the franchise you have chosen, but getting the funds required to open and equip a franchise, train staff and market the business to customers can be challenging. Swoop is a funding platform that helps businesses find the money they need to get started, grow and succeed.
What is franchise finance?
Franchise finance is a loan of money to enable you to buy and open a franchise. It could cover the cost of premises, equipment, licencing, marketing and may include running costs for a period of time until the franchise is generating income.
Franchises are attractive businesses because they allow entrepreneurs to buy into an established brand. Customers like to buy from brands they already know, which is why franchises will have guidelines on how premises and signage should look, the equipment it should contain, the uniforms the staff wear and even software used to run the business.
Buying a franchise is a very established path to building a successful business, but the costs of starting up can be higher than for other similar businesses (for example, non-franchise companies may be able to choose their suppliers while franchises will have an approved list).
Most franchisees can't cover these costs up front and have to borrow: this is called financing.
Although lenders can be more enthusiastic about lending startup costs to a tried and tested franchise rather than an unproven new business, getting finance can be a challenge: there are hundreds of lenders in the marketplace and they all have different attitudes towards who they will lend to. If you have been turned down by your bank, you may think that's the end of the road for your dream of opening a franchise of your own.
Enter Swoop: Swoop has access to lenders from traditional banks to specialists in the franchise finance sector who may be more willing to lend than your own bank. All you have to do is answer a few simple questions and Swoop will match you with a lender who can give you the money you need to make your dream a reality. Swoop is dedicated to serving the needs of small and medium sized businesses and is staffed by experts on business finance who are ready to help business owners.
Swoop saves you time and worry looking for funding in a big and complex marketplace. The platform's automated service gets results fast and offers you the best chance to get your business funded.
And that's not all.
Swoop is also able to help you if you are looking to refurbish, re-equip or expand your existing business by finding the funds required to do so. If you have a track record of successfully opening and operating a franchise, lenders will be more enthusiastic about lending you the money to carry out a refurbishment, re-equip or grow your business. And even if you aren't looking to expand now, Swoop's technology could find you a better deal on your utility bills, making your business more profitable by saving you thousands of pounds a year.
Swoop makes finding and saving money fast and easy for franchise holders, leaving you free to do what you do best – run your business and make your customers happy. That's why we created Swoop: to help every SME access the finding they need to grow.

MEET YOUR SWOOP MANAGER
Swoop has a background in helping entrepreneurs start, run and grow their businesses. For franchisees, we have dedicated experts in each territory:

UNITED KINGDOM
Rhys Cunnah
"Getting the right finance can be confusing and time consuming. At Swoop, my role is to take away the hassle and give great businesses fast access to the funds they need to reach the next stage of their development. My job is to work the lending market hard to help you achieve your business goals."
Contact Rhys: rhys@swoopfunding.com

CANADA
Daire Burke
"The business community is built on entrepreneurs. Swoop is able to provide support through expertise of a confusing marketplace, allowing business owners to stop worrying about the money and get on with planning for the future. Whatever you are borrowing money for, I will help you find the funding you need."
Contact Daire: daire@swoopfunding.com

AUSTRALIA
Stephen Mullan
"Great businesses are always about partnerships. Swoop brings expertise to the table and gives customers financial oversight that simply hasn't been possible in the past, enabling them to make better decisions and realise more ambitious plans. Your ambition, the brand you have chosen to be a part of and Swoop's expertise makes a great team."
Contact Stephen: stephen@swoopfunding.com

PROCESS
Getting a franchisee started with Swoop couldn't be simpler.
Sign up to Swoop

You will be asked to sign in with an email address and answer a few simple questions to set up a meeting with your funding manager 

Swoop's funding manager will onboard you and discuss your options. They will give you an idea of how much you can borrow and what it will cost you. 

Applying for funding will require you to enter your banking details and other information. Thanks to our technology you only have to do this once, as applications can then be created automatically based on the information you have already given to Swoop. 

 If you are successful, an offer will be made which you must accept within the time limit given. 

Payment will be made according to the terms of the lending contract.

Your Swoop manager will be on hand to answer any questions on the process.
All you need to do is visit the website and book an appointment with Swoop.

FIVE TYPICAL TYPES OF FINANCE
There are many finance options for franchises. Swoop's experts will be able to guide you through applications for all of them, so here is a quick guide on what they are:
Asset Finance
Asset finance is a type of lending that gives you access to business assets such as equipment, machinery and vehicles,
Working Capital Finance
Working capital is the amount of money that a business has access to for day-to-day expenses, such as rent, bills and payroll. Working Capital Finance is usually a small and short-term loan to cover these costs and is particularly useful for seasonal businesses which have uneven income through the year.
Commercial Refinance
If a company has a number of loan products that are no longer right for them, they may be able to refinance their loan – for example, they may choose to pay it off more quickly at a higher interest rate.
New franchisee finance
This will be a substantial loan to cover all startup costs for a new franchisee that they cannot meet from existing funds. Business startup loans are usually considered high risk as many businesses fail; as franchises offer business owners the chance to buy into an established and recognised brand, they are generally seen as a 'safer bet' by lending institutions. Lenders will generally cover between 50 and 80 percent of franchise startup costs.
Finance to purchase an existing business/franchise
Loans to cover the cost of buying an existing franchise will be costed based on how the business has performed in the past and the plans for running the business that the new owner has. Depending on circumstances, this may be seen as quite a low risk loan by the lender.

FAQs
How much does it cost? The majority of Swoop's services are completely free for franchisees to use. There is a charge for some niche products and we will always be transparent about when this will be charged.
What is the range of lenders? Swoop's lenders include high street banks, challenger banks and other lenders you may not have heard of – there are literally hundreds of lenders in the marketplace, and Swoop has access to most of them.
How long are offers valid for? The length of time an offer is valid for will vary but this will always be communicated clearly so that you will know how much time you have to accept an offer.
What documents will I need to provide for finance? Different lenders will have different requirements but in general, franchisees will need to provide personal information, the franchise business plan, financial forecasts, evidence of a personal contribution, bank details, proof of identity and confirmation that they have been accepted as a franchisee. A full list will be available on application.
What support does Swoop offer? Swoop is designed so that many products can be investigated and applied for through the website without the need for specialist knowledge. When help is needed, you will have a funding manager with expertise in the area of finance the customer is looking to acquire.
How long does it take to process loans? This varies but it can be as fast as 24hours for some lenders. For larger amounts, there may be a delay of up to two weeks while the lender checks the borrower's credentials.
How long do I have to repay the loans? Loan repayment terms vary from days to years. Generally, the longer the loan term, the lower the interest rate. When taking out finance, you should consider what you can afford to pay back each month.
Do I need to provide personal guarantees or be a homeowner? Again, depending on the type of finance, your property may be at risk if you do not meet repayments. Franchisees should discuss this with their Swoop manager to ensure that they are taking on risks with which they are comfortable.

CASE STUDY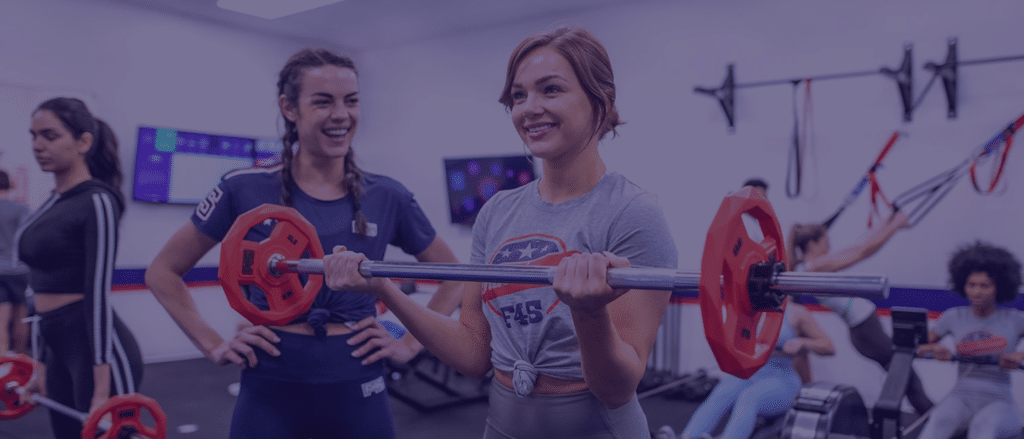 The Challenge
F45 Franchisee Laree Smith was exploring alternate refinancing options for her business in Cambridge, Tasmania. As a business owner, Laree was hard pressed to invest the amount of time required in researching and comparing refinancing options in order to find the most effective lending solution for her business. The rates which had been proposed to her by several external banks and other financing providers were not attractive.
The Solution
Laree was in attendance at an educational webinar organised by Swoop and F45 detailing how the Swoop platform can assist franchisees to secure competitively rated loans to launch and scale their businesses. Laree quickly got in touch with the Swoop team, who investigated the situation and were able to match her with several alternative financing options. Once Laree had chosen an option that matched her needs best, the Swoop team assisted on her application and submitted it to the provider.
The Results
Laree Smith's application for refinancing was successful. Through working with Swoop, Laree was introduced to several alternate lenders whom she had not considered previously. As a result, Laree has been able to fund her business by gaining access to a financing solution that out-classed the big banks both in terms of rates and turnaround time, allowing Laree to get back to running her business.
Client Testimonial
"Swoop was amazing! I was looking for refinancing and they were straight onto finding me the best possible option. I would highly recommend them."
Laree Smith – Owner, F45 Cambridge, Australia.